10 or 20 lbs. premium buckwheat hulls
Air-cleaned, fresh & springy
Fully-intact, pillow-grade hulls
Free, fast shipping on every order
A trusted source for buckwheat hulls
Just $49 for box of 10 lbs.
In-Stock and ready to ship

American Buckwheat Hulls

Grown & milled in the U.S.A.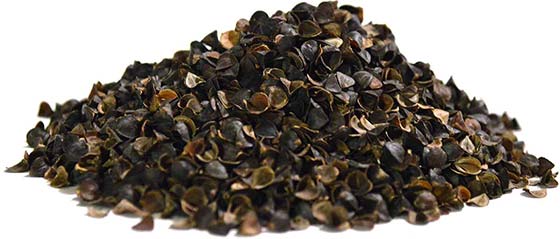 EVERYDAY FREE SHIPPING
---
Making Your Own Pillow or Need Buckwheat Hulls to Refill an Old Pillow?
Hulltex offers 10 and 20-pound bags of premium buckwheat hulls grown and milled in the U.S.A. These are the same top-quality air-cleaned buckwheat hulls we use to fill Hullo buckwheat pillows. With every purchase of buckwheat hulls from our suppliers, we painstakingly inspect all sources and purchase only the very best available.
Our 10-pound bags of hulls are more than sufficient to fill any standard bed pillow. You'll likely have more hulls for other projects. You can use hulls on such projects as neck pillows, bolster pillows, meditation cushions or stuffed animals. How many pounds do you need? Use our Pillow Fill Calculator.
---
About Organic Buckwheat Hulls
Buckwheat crops are seldom damaged by insects or disease and therefore can be grown without pesticides. In fact, there are no registered herbicides or pesticides for farming buckwheat (1). A buckwheat crop mellows the soil, outperforms any weeds and requires very little fertilizer (2). Therefore, organic certification is not the most significant factor involved in our crop choice. When selecting hulls we are primarily concerned with the physical quality of the hulls; they must be intact (not crushed flat). Some milling processes aren't very gentle and will crush the hulls, making them less malleable / springy and also significantly reducing airflow through the pillow.
We prefer certified organic buckwheat hulls when they're available, but when a non-certified crop is of superior quality, we'll select that one. The currently shipping crop is not certified, but guaranteed to be of superior quality to anything currently available in the U.S.A.
Certified Organic Buckwheat Hulls Aren't Necessarily Better Buckwheat Hulls
Certified organic does not indicate quality. Dirty, crushed hulls are sometimes sold as certified organic mulch. The photos below are examples of lower quality, small or crushed buckwheat hulls. These are examples of hulls that belong in the dirt, not in your pillow!
---
For more information regarding our selection process for buckwheat hulls read our blog post discussing the details of selecting buckwheat hulls. Have a question about buckwheat hulls or buckwheat pillows? Ask us!
---