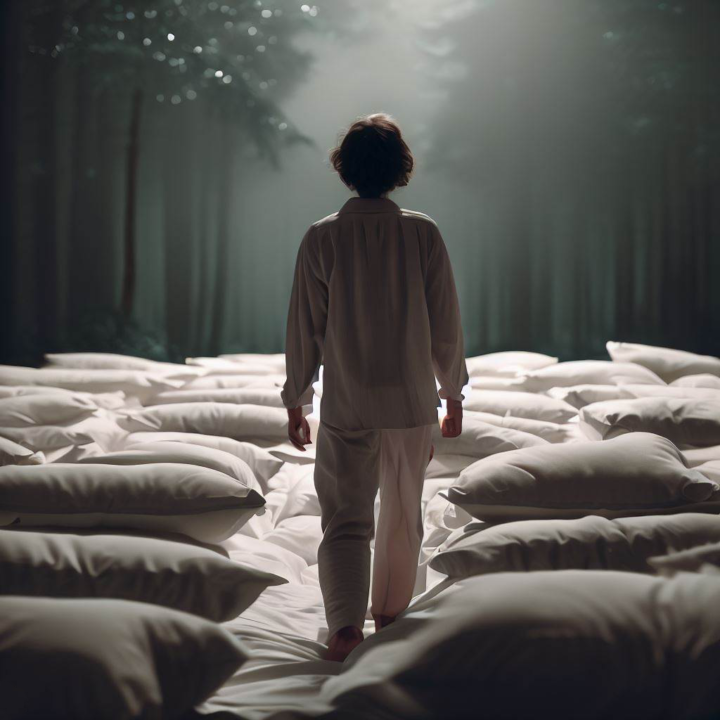 Choosing the Right Pillow: Your Buckwheat Pillow Buying Guide
Choosing the right pillow is essential for ensuring you get the restful sleep you need. Buckwheat pillows have become increasingly popular in recent years. As a result, a ton of companies have sprung up to sell them. The many different options are overwhelming. In this buckwheat pillow buying guide, we will take a closer look at buckwheat pillows and why our product, Hullo, is the best choice on the market.
Understanding Buckwheat Pillows
Buckwheat pillows are filled with, you guessed it, buckwheat hulls, the outer protective shells of buckwheat seeds. Buckwheat hulls' unique shape makes it excellent pillow filling. The individual hulls' rough edges grip one another, enabling your pillow to conform perfectly to the shape of your head and neck, eliminating any uncomfortable pressure points. Traditional pillows can lose their shape and support over time, while buckwheat pillows offer consistent and comfortable support all night long.
Buckwheat hull filling is also breathable. They allow air to circulate through your pillow, keeping you cool throughout the night.
Finding the Perfect Buckwheat Pillow
1. Assessing the Quality of Components
Fabric case — Opt for a breathable and durable organic cotton fabric that keeps your pillow comfortably cool while preventing rips and tears. Buckwheat hulls are not light (about 10 lb. for a standard size pillow), so your pillow's seams should be double-stitched. A ripped seam can make quite a mess! Hullo utilizes a 7 oz/yard organic cotton twill fabric, striking the ideal balance between comfort and durability.
Zipper — a high-quality zipper will keep your pillow's buckwheat hulls where they belong — inside your pillow. Individual buckwheat hulls are quite small and can get past a cheap non-locking zipper or one that is improperly stitched.
Buckwheat Hulls — The right hulls for use in a pillow are not easy to find. They should be vacuum-cleaned, intact (not crushed), and of adequate size to ensure breathability. With every purchase of buckwheat hulls from our suppliers, we painstakingly inspect all sources and purchase only the very best available.
Our commitment to quality ensures that your Hullo pillow will last for years, providing excellent support and comfort every night.
2. Emphasizing Sustainability
Sustainability plays a pivotal role in selecting a buckwheat pillow. At Hullo, we prioritize eco-friendly practices throughout our production and shipping processes.
Renewable and Compostable Materials — Our buckwheat pillows are crafted using renewable, compostable, and organic materials, minimizing their environmental impact compared to traditional pillows that end up in landfills for hundreds of years.
Durability and Replaceable Filling — Hullo pillows are designed to last, with easily-replaceable filling thanks to its zippered opening. By offering a long-lasting product, we reduce resource consumption and contribute to a more sustainable future.
Environmentally-Friendly Production and Transportation — From fabric cases to buckwheat hulls and cardboard boxes, Hullo prioritizes locally sourced materials, significantly reducing energy waste and pollution generated during transportation.
3. Additional Benefits: Fast, Free Shipping, and 60-Day Return Window
Hullo ships free via UPS Ground to the 48 Contiguous United States. Every Order. Every Day.
We want you to be completely satisfied with your Hullo pillow, and we stand behind our product with a generous return policy. Try Hullo for 60 nights. If you're not happy with the sleep you're getting with Hullo, just ship it back to us and we'll refund the purchase price.
In conclusion, when it comes to choosing a buckwheat pillow, Hullo is the clear choice. Our commitment to quality, sustainability, and customer satisfaction ensures that you will get a pillow that provides excellent support, lasts for years, and minimizes your environmental impact. Choose Hullo for the best night's sleep you've ever had.