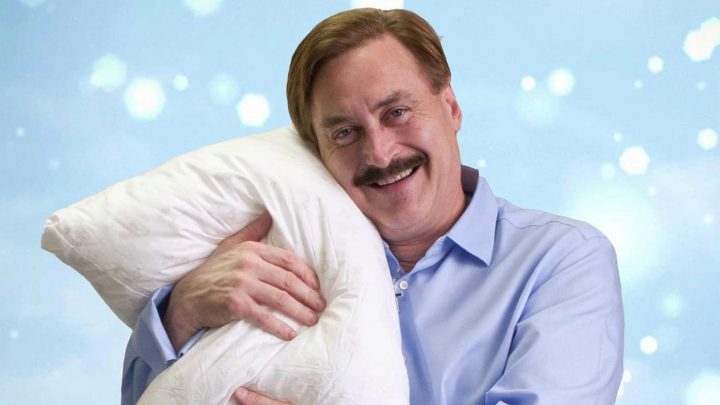 My Pillow is a widely-advertised brand of bed pillow. The company was founded in 2004 by Michael J. Lindell. The pillows are manufactured in Chanhassen, Minnesota and became famous through the use of TV infomercials. It's an interesting product and one which has clearly been successful in the retail market.
What is My Pillow Filled With?
My Pillow is filled with polyurethane foam. What makes it somewhat unique is that the foam is shredded into different sized pieces and shapes. Interestingly, this concept is not unlike a traditional buckwheat pillow that has been around for thousands of years. The small pieces allow the pillow to be re-shaped to conform to the body, similar to cup-shaped buckwheat hulls. Irregularly-shaped fill provides a distinct advantage over most pillow fills. Individual pieces of irregular fill grip each other which helps the pillow maintain its shape once it's been formed to your head and neck. The ability to shape the pillow can result in more comfort and better support than many standard pillows.
My Pillow Reviews
From Amazon to YouTube, the internet is full of My Pillow Reviews which range from glowing testimonials to scathing rants.
At the time of writing, the standard My Pillow model has an average rating of 3 stars on Amazon.com. Some customers report better support, better sleep and more comfort using My Pillow. Primary complaints include reports of My Pillow falling apart, a chemical odor, bad customer service, and difficulty receiving refunds. As with buckwheat pillows, many customers report a "learning curve": a period of time required to adjust to sleeping on a new pillow. This adjustment period is commonly reported by people who change to a new mattress or new pillow.
Benefits of My Pillow
According to their website, My Pillow has helped people with migraines, insomnia, snoring, fibromyalgia, restless leg syndrome, neck pain, TMJ, allergies and asthma. Regardless of brand, no pillow is a medical device or a guaranteed cure for these ailments. However, using the right pillow has the potential to provide more restful sleep and relief for conditions such as these. We have received many first-hand accounts from our customers who report that Hullo has been beneficial to their comfort and health.
How Much Does My Pillow Cost?
My Pillow offers a variety of sizes, with the Standard/Queen size bed pillow starting at $89.95 suggested retail price. The King size model starts at $99.95. Significant discounts can be found by shopping at Amazon or by finding My Pillow Coupon codes online.
The My Pillow Story
"Have you heard of My Pillow", my friend asked me a year or two ago. He had seen the My Pillow infomercial. I had not heard of it, but quickly blew it off as a cheesy gimmick hawked on late-night TV. A few weeks later, my dad sent me a clipping from the New York Times — a My Pillow ad. Shortly thereafter, the Minneapolis St.Paul newspaper, the Star Tribune, featured more than one story about this company and its founder, Michael Lindell. Being a founder of a new pillow company, also in Minnesota, I found his story fascinating. Since then I've read about his former crack cocaine addiction and years of struggle getting My Pillow off the ground.
Suddenly, My Pillow no longer struck me as a corny gimmick; It was a genuinely interesting business story. It also was intriguing tale of an interesting guy and his journey to pillow-fueled success. Lindell's dedication and his company were an inspiration.
Lindell had a personal interest in a quality pillow due to painful neck injuries; not only from the car crash he survived but also accidents both motorcycling and sky diving! While I've never struggled with crack addiction or jumped out of an airplane, I did see parallels between Lindell and myself. Here was a man, a Minnesotan, attempting to market a product he believed in. Like me, he started experimenting with different pillow fills and sewing the pillows on his own. He knew he was on to something when his family fought over "My Pillow." He now had a product and a brand name.
Turned away by retailers, he tried selling his product in mall kiosks, fairs and trade shows. Determined to make My Pillow a success, he sold four bars he owned in Minnesota for $500,000. He quickly spent this half a millon trying to market his product and went broke. His wife left him and he lost his home — he battled crack and alcohol addiction. Things were rough.
What really launched My Pillow on a successful trajectory was the original infomercial my friend had seen. Production of the informercial cost half a million dollars. Interestingly, most of this was funded by My Pillow employees who were willing to risk their hard-earned money for the cut of the potential profits. Clearly, Lindell and his employees believed in their product. The gamble paid off — they hit the jackpot with marketing via infomercials. With their newfound strategy, My Pillow is currently selling over $10 million in in pillows per month!
*Edit 3/10/16* We've received several angry emails from disgruntled My Pillow customers. Put your pitchforks away! We are not and have never been affiliated with My Pillow.
---
Interesting My Pillow Links
Sources:
My Pillow Soars After Infomercial  – Minneapolis/St. Paul Business Journal
My Pillow Moving 200 Jobs to Shakopee, Opening Retail Stores – Minneapolis/St. Paul Business Journal
Wikipedia – My Pillow – Wikipedia