The word zafu is frequently translated as, "sewn seat." However, a strict interpretation of the Japanese kanji is "reedmace seat."
What's Reedmace?
Better known in the U.S. as cattails, reedmace flowers produce a fluffy down-like material that can be used to fill pillows. Reedmace was once popular as zafu pillow filling due to its firm and durable characteristics.
Reedmace never caught on as pillow filling. In fact, it's very difficult to find an authentic reedmace-filled zafu. That's not a problem, because there's a far more practical and comfortable option: buckwheat hulls.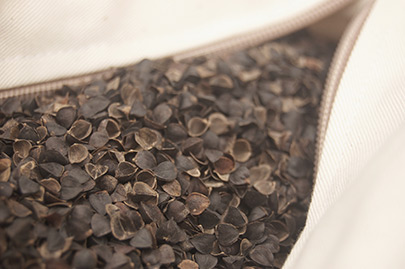 Buckwheat hulls are a proven pillow and upholstery filling made popular with centuries of use in Asia.
Thousands of tiny all-natural buckwheat hulls provide support for your body that can't be matched by other pillow fillings. The unique malleable characteristics of buckwheat hulls allows them to conform perfectly to the shape of your body.
Buckwheat hulls move and shift, but do not compress under pressure and lose volume or loft. A buckwheat filled zafu can be easily molded and shaped as you please thanks to the irregular edges of each individual buckwheat hull. The hulls gently grip one another, enabling your pillow to hold a shape that mimics the contour of your body, keeping you positioned consistently and comfortably.
Zafu meditation cushions are sometimes filled with kapok or foam. Avoid these.
These soft fillings will compress substantially under the weight of your body and thus cannot hold their shape. Maintaining a neutral and comfortable posture is difficult if your zafu is too thin or inconsistently shaped.
How does a zafu work and what are the benefits?
A zafu improves your posture by making small adjustments to the geometry of your typical seated position.

While seated on a flat surface, our natural inclination is to bend our backs forward while hunching our shoulders. Sitting with this flawed posture will inevitably cause painful stress on joints, muscles and nerves.
A zafu, placed under your hips, will elevate your upper body slightly. It allows you to effortlessly straighten your spine and pull your shoulders back into a healthy posture. This simple enhancement keeps your spine neutrally aligned and will help to eliminate any potentially uncomfortable pressure points in your back, shoulders and neck. 
Zafus are most typically cylindrically shaped. They are often about 12-18″ wide and 5-8″ tall. Their circluar shape allows your legs and/or feet to tuck in along the front edge (your feet will catch on a rectangular pillow's corners).
Where can I use a zafu? They're useful in many contexts:
Quick and Convenient Seating for Your Home – Sometimes also called a pouf or a floor pillow, a zafu will add stylish, compact and comfortable accommodation to any room of the house. Adults can sit on them together comfortably around the coffee table with drinks while the kids use them for lounging in front of the latest movie.
Posture Perfect – A zafu's shape encourages excellent posture, making them ideal for use during yoga and meditation.
Comfort on the Go – Take your zafu with you camping, to the kids' soccer games or to the picnic in the park. Many zafus include a durable carrying handle making them easy to take along wherever you go.
A zafu will eventually get dirty. Make sure you can clean it.
Exposure to dirt and dust will inevitably occur; at some point, you'll want to clean your zafu.
Spot cleaning stains with a damp rag will keep it in reasonable condition.
However, to properly clean a zafu, you'll need to completely remove the filling. Next, machine wash the outer fabric shell. To do so, your zafu will need a zippered opening, a feature unfortunately not all include.
The best zafus also have an interior breathable liner containing the buckwheat hulls. These allow you to quickly and conveniently remove and replace the buckwheat from the outer fabric shell without any spills.
High-quality materials and construction matter!
Sitting on a zafu can put a lot of pressure on the zipper and seams holding your pillow's filling in place. I have experience with cheaply made pillows. My first buckwheat pillow split open at the seam and lost its filling all over my bedroom floor!
The pillow with the lowest price tag isn't always the most economical. A well-made product will often save money in the long run, even if it costs more up front.
You can make your own zafu.
A zafu is a bit more challenging to make than a traditional square pillow. If you're an avid DIYer and ready for the challenge, check out this simple zafu design and tutorial. We sell pillow-grade buckwheat filling in 10 and 20 lb
What's the best zafu? Try Hullo.
We recently started selling a zafu meditation cushion alongside our Hullo™ bed pillows, calling it a floor pillow:
13″ × 13″ × 5″  

– 4 pounds, 13 ounces

 100% Certified organic cotton twill

– Stain-resistant, preshrunk, machine-washable

 Durable locking Dunlap zipper and integrated convenient carrying handle
 Zippered internal liner makes washing the cover a breeze
 Premium buckwheat hulls

– Grown & milled in the U.S.A.

 High-quality YKK™ auto-locking hidden zipper
 Fast, free shipping via UPS

– in-stock

  Cut & sewn in Minnesota, U.S.A.
Give one a try for 60 days. If you're not sitting more comfortably, just send it back to us for a refund.