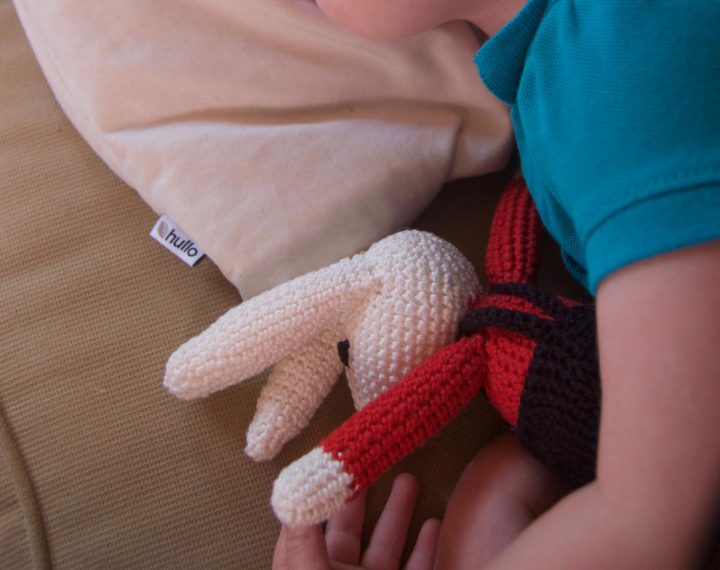 A very important part of your child's health is her sleep. Children need plenty of quality sleep in order to grow and lack of it can lead to cognitive and behavioral issues. A school-age child needs roughly 10 to 11 hours of sleep per night. This simple fact means that almost half your child's life is spent on her pillow… A pillow that could potentially expose her to toxic materials.
I've got two young kids, so I have done lot of shopping for children's bedding recently. It didn't take much research to discover that many pillows for kids and other bedding products contain hazardous materials.
The Hidden Dangers in Pillows for Kids
A few of the unsafe toxins and chemicals that exist in popular children's pillows are:
PBDEs and volatile organic compounds in memory foam.
bleach and pesticides in non-organic cotton.
perfluorinated compounds in stain and water-resistant pillow cases and sheets.
The short-term side effects for those sensitive to these materials can include headaches, sinus issues and eye irritation. The long term risks of exposure are mostly unknown, but some research shows that they include some cancer types. Why take chances?
Pillows for kids should be made with organic and chemical-free components.
Pillows consist of 1) the fabric exterior and 2) the fill or stuffing. Keep these two elements free of the potentially nasty stuff and you'll feel at ease knowing she's resting safe.
1. Fabric Exterior: Look for Unbleached Organic Cotton
Cotton is a terrific fiber for use in bedding. Unfortunately non-organic cotton comes with a significant disadvantage: it is grown using some of the world's most hazardous pesticides.
"Conventionally grown cotton uses more insecticides than any other single crop and epitomizes the worst effects of chemically dependent agriculture… Cotton growers typically use many of the most hazardous pesticides on the market including aldicarb, phorate, methamidophos and endosulfan… Pesticides used on cotton– even when used according to instructions– harm people, wildlife and the environment." Read more: Problems with Conventional Cotton Production | Panna.org
After it is harvested, it is often bleached, treated and dyed. These procedures inevitably leave behind a multitude of chemicals in the fibers. One of the most toxic substances in the home is bleach; Greenpeace warns that "bleach can contribute to cancer, endocrine disorders and other dangerous health problems."
Prevent your child from being exposed to anything that might be harmful by choosing unbleached organic cotton fabric.
Ideally, the pillow's fabric outer shell and its pillow case are both made from organic cotton. Some organic cotton pillows can be a bit pricey, so an economical first-step is to get just organic pillow cases. 
2. Pillow Filling: Try Buckwheat Hulls
The benefits of buckwheat hull pillows include:
excellent neck, head and shoulder support for all sleep positions (sides, back, stomach)
breathability- it will keep your child at at comfortable temperature even in the hot summer months
adjustability – add or remove fill to make the pillow thicker or thinner as desired
durability – a good buckwheat pillow can last many years
Be aware that buckwheat pillows aren't for babies. Children 3 years and under shouldn't use a buckwheat pillow because there is a remote risk of choking on the hull fill should it escape the fabric case.
Hullo Buckwheat Pillow for Kids
A safe, clean pillow for kids made entirely with organic and natural materials: our own Hullo buckwheat pillow. The outer shell that contains the pillow's fill is 100% organic cotton twill, ensuring that your child's skin only comes in contact with toxin and chemical-free materials. Hullo's all natural buckwheat hull fill is grown and milled in the USA without the use of any pesticides. Best of all, it's super comfortable and we guarantee it. Try Hullo for 60 nights and if you or your child is unhappy with it for whatever reason, just send it back to us for a full refund.